Notice boards and bulletin boards are everywhere within the UK; they grace buildings, turn bus stops into advertisements and stand proudly on their wooden legs outside almost every church and community centre in the country.
Suffice to say, the humble outdoor notice or bulletin board is arguably one of the most simple and yet effective way to get a message out there in 2016 – provided that is you purchase the right one.
Then, to help those shopping for that ideal outdoor notice board, here is a quick guide to the type of notice boards suitable for outdoor use and features you will need to know about before buying.
Types of Outdoor Notice Boards
The two most commonly used external notice board options in the UK are that of the wall mounted outdoor notice board and the freestanding outdoor notice board. Which of the two will prove the most appropriate and effective will depend on the answers you give to the following questions:
Where will the notice board be best visible?

Where is it safest to place the notice board?

What is the notice board being used for?

What size notice board is required?

What is your budget?
It is important to answer these questions before beginning your search for the perfect outdoor notice board because if you don't, quite simply, you won't find the perfect notice board. After all, you won't know what it is!
So, take a moment to answer the above questions and form a clear, sensible and practical idea of what you need before heading over to the likes of Notice Boards Online to subsequently begin your search for a board that meets your requirements.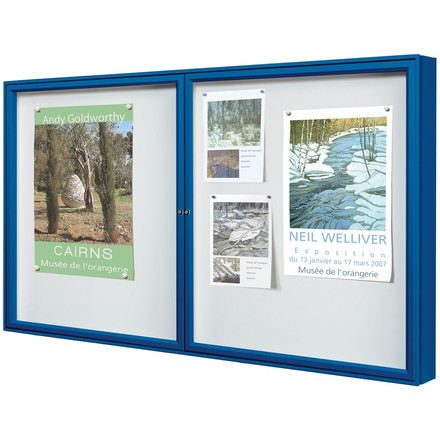 Security
Despite the fact that most outside or external notice boards are made with some form of lock feature, this is not true of every type out there. In fact, and to give one example, the keyless notice board available via the Xdisplay website and online store features no standard key locking mechanism what-so-ever. Despite this and rather than consequently making it ill suitable or an inadvisable buy for someone looking for an outdoor notice board, the design of the keyless notice board actually makes it ideal, despite featuring no key or traditional lock mechanism.
As stated via the Xdisplay website: 'The Keyless External Noticeboard incorporates tamperproof fixings and weather proofing. The heavy duty frame requires no key and is opened by attaching the supplied mini suction clamps to the removable door and pulling. This makes the Keyless External Notice Board an ideal tamperproof display frame for outdoor, indoor and public areas.'
Therefore, it is important to look carefully into the specific security features any and every notice board advertised as for external use or suitable for use outside as well makes use of before buying as there is no standard approach to securing notice boards for outside use.
Weather Proofing
Outdoor and external notice boards are almost always created with some level of weather resistant features and capabilities. That said, not all outdoor notice boards are made equal. Hence, and especially if you are purchasing a free standing notice board which will as such almost certainly bear the brunt of more rain and especially wind than a wall affixed one, it is important to always speak with a provider and ask specifically how weather resistant the notice board you are looking at purchasing from them.
Better yet, explain what you want in and from an external notice board and ask companies to advise you. This does not mean that you will be obliged to purchase the notice board or boards they recommend, but will potentially help your to tailor your search and size up a company as to the quality of their customer service before deciding whether to purchase from them.
Lighting
External and outdoor notice boards are not normally sold, made or provided featuring lighting of any kind as standard. Then, you will need to consider whether you require an outdoor notice board to have this feature, and do so before you purchase a notice board as it is relatively tricky and can consequently prove problematic or even dangerous to subsequently affix lighting to an external or outdoor notice board. So, consider carefully when your notice board will be read most often and need to be seen.
The Law
The UK Government considers 'notices' and 'boards' as forms of advertisements, whether placed on or affixed to public or private premises. Consequently, and depending on location and purpose to which you put an external notice board, as well as its size, the UK Government has certain rules, regulations and advice you will want to read ahead of purchasing or putting up an outdoor notice board if you intend to use it to advertise in an way, which you can access in a PDF format via the Gov.UK website.